Electronic Voucher Management System
The Electronic Voucher Management System is a software solution developed by the leading provider of Electronic Voucher distribution and management systems.
When it comes to electronic voucher management software in the telecom industry, MobEVD is the top choice. Offering both physical and electronic voucher systems, MoboGage provides software that effectively handles the distribution of electronic vouchers.
This software, also referred to as EVD software or electronic voucher distribution software, plays a vital role in generating and distributing vouchers for telecom companies vouchers, online gaming companies vouchers, and other businesses that utilize loyalty reward coupons. Additionally, E-Voucher is synonymous with a voucher management system or digital card distribution system.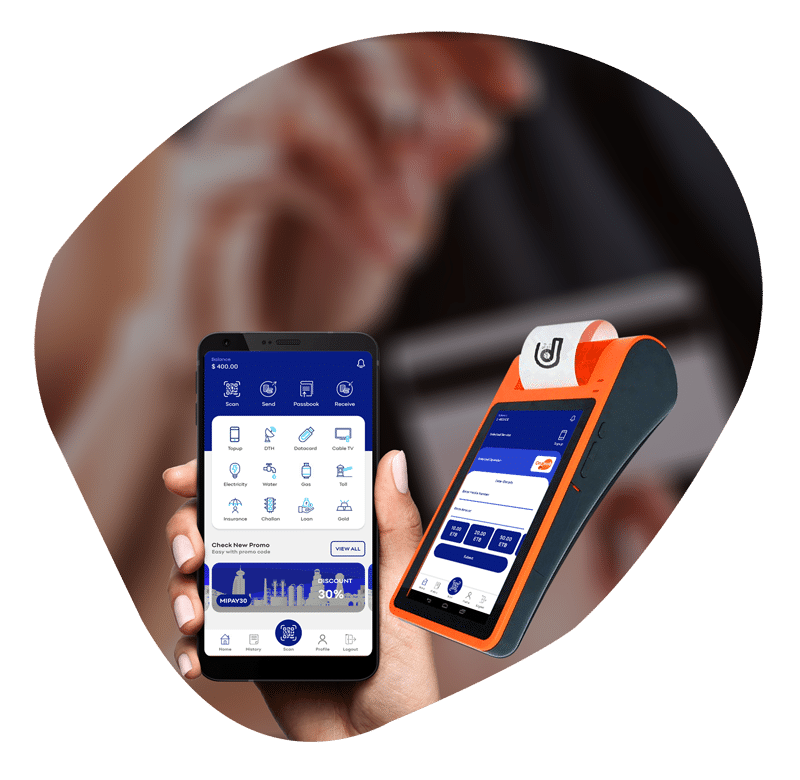 Voucher management system for telecom companies
Telecom companies are looking for VAS partners to encourage the use of electronic voucher distribution to facilitate the sale of vouchers through mobile apps or point-of-sale (POS) systems. It will help them to reduce the operational costs, logistic requirements, and other several benefits over physical voucher distribution.
This highlights the essential need for an electronic voucher management system within the telecom industry. Our solution simplifies the process of generating, uploading, and distributing vouchers while ensuring a secure lifecycle. By leveraging our voucher distribution system, telecom companies, and their resellers can conveniently sell vouchers via mobile apps and handheld POS devices that are compatible with Android and Linux platforms.
Key Use Cases
A Digital wallet or Merchant payment platform with mobile money is the core expertise of MoboGage, We offer a NEO Banking platform to fulfill your digital payment requirements. Cross-border payments, QR Code payments, Airtime Distribution, and electronic voucher distribution with International top-up software using Ding and Transfer-to.  The platform gives you flexibility, security, and scalability to deliver a mobile money system with an e-wallet. Mobile payment platforms are secured with a blockchain security token system also.
Best Mobile Payment Systems
We are
Deploying Global Solutions
Design a coupon and voucher management Software
Our Mission Is To Promote Digital Payments across the globe with increased customer satisfaction.
EVD Systems in Saudi Arabia
Voucher Distribution Oman
Digital Wallet System Turkey
Mobile Payments Qatar
E-voucher distribution System United Arab Emirates
Voucher Management System  Israel
Mobile Money Platform Egypt
Electronic Wallet  Bahrain
Mobile Top up Software Iran
European Union
Digital Voucher Distribution
Airtime Distribution in Germany
E-Voucher Distribution France
Digital Wallet System Ireland
Mobile Payment Systems Itly
Voucher POS Netherlands
Telecom VAS Portugal
Mobile Money Platform Sweden
Digital Wallet United Kingdom
Prepaid Voucher System Finland
United States
E-voucher distribution
E-voucher Distribution USA
Payment App Argentina
Airtime Distribution Maxico
Mobile Top up Software Canada
Digital Payment Services Brazil
Mobile Money Paraguay
Telecom voucher distribution in New York
Digital Wallet System Florida
Prepaid Voucher System Ohio
Reasons to Choose MoboGage as Your EVD System Design Partner
EVD Systems are not like any general ERP systems but a complete life cycle of voucher distribution from voucher generation to voucher sales via POS. Electronic voucher distribution system by MoboGage helps to drive this mobile payment Eco-system using centralized mobile wallet and e-voucher management at a central distribution process.
Happy Clients
The asset of our global presence
Years Experience
Innovations Lab is still on